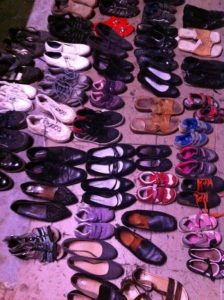 By the end of last week, according to the Wealth Health Organization (WHO), 68 new cases of Ebola virus disease as well as 29 deaths were reported from Guinea, Liberia, Nigeria, and Sierra Leone. Especially in Nigeria the situation has worsened considerably during the last days.
According to WHO data in the four countries above mentioned 1779 cases were registered by the end of past week, including 961 deaths. And there are up to 200 more suspect cases.
Does the Ebola epidemic constitute a threat to the African growth story? Is Ebola a good reason for European investors not to invest anymore in Africa? As it has been shown in the past, epidemics and even more pandemics can do a lot of harm to the wealth of a region or even the world. Do you remember the bird flu caused by virus H5N1 that jumped from birds to people and first appeared in 1997 and then again in Asia in 2003? In China, this year occurred cases of avian influenza caused by a new virus called H7N9.
H5N1 first spread by end of 2003 in Hong Kong and then in several states of South East Asia as well as in East Asia. Beside the high number of deaths H5N1 caused the pandemic had a major impact on economic growth of the whole world causing a slowdown in air traffic and transportation in general.
Can Ebola cause the same effects? Will we face a slowdown of intra African trade and air transport and in consequence the final chapter of the economic growth story in Africa?
These fears occurred as the concerned countries were closing borders, and cancelling flights. "People are afraid to travel, especially when such a dangerous disease is out there," cites a report of Deutsche Welle Michel Balam of the African airline ASKY in Conakry, Guinea.[1] "This is why the airline started having fewer passengers when the first suspected cases became known", states the report. "Emirates and British Airways also announced that flights to affected nations would be suspended until the end of the month".
The deterioration of business climate will not be contained to the four West African countries mostly hidden by the virus. "Even a flu with 'normal' characteristics in terms of transmissibility and deadliness could have serious consequences for the world economy if the world's population has limited immunity", states a report.[2] "Estimates suggest that such a flu could infect as much as 35 per cent of the world's population, spreading throughout the world in as few as 180 days".
The authors refer to World Bank calculations based on three separate simulations. They are stating that even a mild flu pandemic will cause a 0.7% slowdown of the world GDP. A moderate flu pandemic will affect world economy by a drop of 2.0% of the global growth rate and a severe flu pandemic by a drop of 4.8%. In other words, a severe pandemic has the potential to annihilate the global growth of a whole year.
The mild scenario is modelled on the Hong Kong flu of 1968-1969, the moderate flu has the characteristics of the 1957 Asian flu; and the severe simulation is benchmarked on the 1918-1919 Spanish flu.
It is hard to say up to now how the Ebola epidemic will evolve. It is obvious that the virus already has immediate economic impact on the four countries mostly concerned, as many businesses have lost revenue because of the amount of deaths. And trade in West Africa is heavily affected as transportation of goods and people becomes more and more risky, a region that clearly needs economic dynamic.
But I am rather confident that the economic impact can be contained to the Western part of Africa and will not affect the whole continent. One reason for my optimism is that the international medical community is doing a great job by fighting the epidemic. A second reason is that intra African trade and economic integration in Africa are not so advanced as we might wish.
If you want to contain an epidemic this lack of economic integration is good news. And with further economic integration the medical infrastructure will improve substantially in Africa.
Notes:
[1] http://www.dw.de/ebola-outbreak-a-burden-on-west-africas-economy/a-17838773, consulted on 09-08-2014.
[2] Andrew Burns, Dominique van der Mensbrugghe, Hans Timmer: Evaluating the Economic Consequences of Avian Influenza.
http://siteresources.worldbank.org/EXTAVIANFLU/Resources/EvaluatingAHIeconomics_2008.pdf as of 09-08-2014.